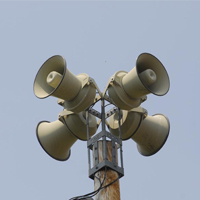 The National Weather Service seeks to improve weather warnings, making them more accessible to those experiencing deafness or partial hearing loss.
NOAA weather radios provide a variety of weather warnings and civil emergency messages for the National Weather Services forecast office.
These radios have adapted over the years for hearing loss sufferers with strobe lights and bed-shaker attachments, according to research published on "A Hole in the Weather Warning System" in the February 2003 Bulletin of the American Meteorological Society.
According to the National Institute on Deafness and Other Communication Disorders, about 17 percent of Americans, or 36 million people, suffer from some degree of hearing loss.
Nashville's National Weather Service office, the Metro Office of Emergency Management and the Nashville Chapter of the American Red Cross collaborated to host a symposium this September. Attendees suffering from deafness or partial hearing loss received a free NOAA weather radio with a strobe light to alert individuals during waking hours and bed shaker attachments to wake hearing loss sufferers up.
These radios meet the weather alerting needs of deaf and hard-of-hearing people by providing visual and vibrating alarms and simple text readouts, three warning lights to indicate the level of alert, a liquid crystal display readout to indicate a specific warning and programmable state and county selections to screen out warnings for other areas. The battery-operated NOAA weather radio works at home, work, school or play and while traveling, boating or camping.
The federal government and NPR are also spearing a pilot project to explore an emergency communications system for those with hearing loss, connected to the Public Radio Satellite System in the Gulf Coast.
"The United States Gulf Coast, where sudden and sometimes life-threatening weather systems are prevalent, serves as an excellent testing ground for this project due to the urgent need for all residents to have access to real-time emergency information and alerts," NPR spokesman Emerson Brown told AccuWeather.
Twenty-five public radio stations across Alabama, Florida, Louisiana, Mississippi and Texas will send weather alerts to approximately 500 volunteers to judge the effectiveness of the program, according to Brown.
Each participating station will receive a satellite receiver and hardware to distribute emergency transmissions, while each volunteer will receive a special FM receiver and 7-inch Android computer to display messages.
These transmissions will take place across approximately three weeks this December. Brown claims that the success of the project will be defined by the ability to receive, transmit, interpret and act upon the messages.
If you or someone you know would like to learn more about hearing loss and how to treat it, please feel free to schedule a consultation or contact one of our representatives today!
Call 877-631-9511 for FREE Consultation