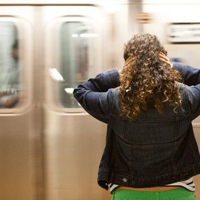 Riding the subway or the bus could damage hearing, according to a 2006 study of public transit noise in New York City, which measured noise on buses, in subway cars and on platforms.
The first such formal study published since the 1930s, the 2006 study concluded that noise levels at subway and bus stops often exceeded recognized public health recommendations and could lead to hearing loss with significant exposure. Scientists at the Mailman School of Public Health at Columbia University conducted the study, published in The Journal of Urban Health.
Guidlelines from the Environmental Protection Agency and the World Health Organization recommended a limit of 45 minutes' exposure to 85 decibels, the average noise level measured on subway platforms. Almost 60 percent of platform measurements exceeded that noise level. Noise levels on the platform were 94 decibels on average and 106 decibels consistently at the peak.
While platform noise levels seemed extreme, the maximum noise levels inside subway cars were even higher, with one-fifth of the cars exceeding 100 decibels and more than two-thirds exceeding 90 decibels. According to the World Health Organization and the Environmental Protection Agency, such noise levels are unsafe when sustained for any more than 30 seconds.
The Columbia study reported that as little as 30 minutes of noise exposure to the train levels in the New York subway could result in hearing loss.
The head of Columbia's study, Professor Robyn Gershon claimed that listening to an MP3 player in the subway can be very damaging, as in order to hear the music over the loud noise levels of the train cars, the player's volume must be turned up high, often to noise levels of 85 to 95 decibels.
"If a rider is exposed to other high noise-level activities such as a personal listening device, the potential for hearing loss is even greater," Gershon told the Journal of Urban Health. "Noise exposure and noise induced hearing loss is a global health problem of significant magnitude, especially in urban settings."
The study recommended properly fitted earplugs and earmuff-like protectors in loud public transit settings, as these protective devices could significantly cut noise levels at the ear drum. However, the study warned that personal listening device increased the total noise levels and risk of hearing loss.
Gershon also advised that commuters move to the front end of the platform instead of the middle or the rear where the roaring noise levels of the incoming trains are the loudest.
The New York subway is both the longest and second oldest subway in the United States with an average of about 4 million riders daily.
If you or someone you know would like to learn more about hearing loss treatments in general, please feel free to schedule a consultation or contact one of our representatives today.
Call 877-631-9511 for FREE Consultation