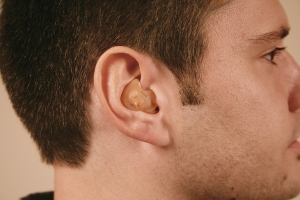 After meeting with a Connect Hearing professional for a consultation and hearing test, you'll be on your way to a lifetime of clearer, brighter sounds. A hearing aid fitting is a necessary step toward finding the best product for your unique ears. During a hearing aid fitting, all aspects of your hearing loss will be addressed. Your personal preferences related to lifestyle and aesthetics will also be taken into consideration in order to create the perfect match.
Hearing Aids to Fit Your Lifestyle
During your hearing aid fitting, your audiologist will inform you of your hearing aid product options—Phonak, Unitron, and Siemens are popular brands with many choices. The two of you will discuss the extent of your hearing loss as found in the hearing test, as well as your activity level. The way in which you communicate and with whom (with children, over the phone, to a classroom) will also make a difference in your hearing aid fitting. A mold of your outer ear may be taken for custom fitting purposes. Connect Hearing offers competitive financing plans in order to make it easy to pay for your hearing needs.
Physically Fitting Hearing Aids
Once your audiology clinic has your hearing aid in hand, it will be physically adjusted to fit your ear. A hearing aid should never be painful or uncomfortable, so it's important that your hearing aid be an exact fit. The audiologist will also program the hearing aid to fit your needs and show you any controls that it may have. This is also the opportunity to learn how to properly insert and remove your hearing aid without damaging it or your ears.
Call 877-631-9511 for FREE Consultation