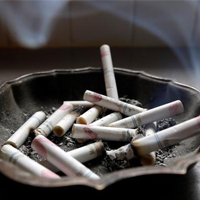 Prenatal smoking has been linked to a slew of negative consequences for children, from premature birth to low weight to asthma. A new study, published in the journal JAMA Ontolaryngology, has now added hearing loss in adolescents to the list.
Michael Weitzman, study author and a professor at the New York University School of Medicine, comments that cigarette smoking is possibly the worst man-made epidemic.
The Study
The 2005 to 2006 National Health and Nutrition Examination Survey included 964 children and adolescents from ages 12 to 15. About 16 percent of the subject's parents confirmed prenatal smoke exposure. Subjects without smoke exposure heard better by three decibels, compared to those exposed. Kids with exposure were also roughly three times more likely to have mild hearing loss.
Anil Lalwani, study contributor and professor and vice chairman for research at Columbia University, claims that most mothers surveyed quit smoking during the first trimester, showing that even brief prenatal smoke exposure can have negative effects on children's hearing and contribute to future hearing loss in adolescents.
The study's researchers could not determine the exact cause of the child's hearing damage in the womb or the long-term effects. The study did find that adolescent hearing loss could lead to academic and social problems, including a lowered IQ and other cognitive and behavioral issues.
Lalwani comments that the research suggests that prenatal smoke exposure, whether primary or secondary, definitely damages the auditory system. Not surprisingly, mild damage can negatively affect children and contribute to an even greater hearing loss in adolescents.
Hearing loss in adolescents can be caused by a number of factors, from loud concerts to blaring headphones. Even accounting for these factors in their comparisons, researchers still found a clear association between prenatal smoking and hearing loss, according to Weitzman.
Sparking New Preventative Efforts
Although the adolescent hearing loss that smoke exposure causes tends to be moderate, the study raises the possibility of future health care advancements and tobacco related research.
Continued research on the effects of tobacco smoking could encourage preventative care, screening and future treatments, according to Weitzman. Hearing damage in younger generations would otherwise likely be left untreated, increasing the likelihood of poor auditory response at an early age in children, progressive hearing loss in adolescents, and, ultimately, deafness approaching the age of 20.
Hearing loss in adolescents from prenatal smoking is a disturbing side-effect. If you or someone you know is experiencing hearing loss, from pre-natal missteps or other factors, please contact our team of representatives today to learn about your options for hearing renewal. Locate a specialist near you and start your path to clear hearing.
Call 877-631-9511 for FREE Consultation