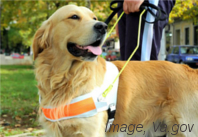 Eighty-year-old army veteran Ronald Fletcher trains dogs to help him and other retired veterans with hearing problems.
The Fayetteville, PA-based retired army colonel lost his own ability to hear high frequencies, from ringing telephones to door bells to smoke alarms, during his time in the army from 1954 to 1987. He served during the Korean and Cold Wars, working with the CIA in biological warfare during the Cold War and traveling to places like Czechoslovakia and Russia.
"There was a lot of tank fire," Fletcher told Chambersburg, PA's Public Opinion. "In those days, there wasn't as much ear protection."
By 1999, Fletcher's hearing had worsened to the extent that he needed help from his dog Cicero to answer the phone or door.
"I had taken classes on how to train dogs for AKC Obedience trials in high school," Fletcher told Public Opinion. "I also became affiliated with a group in Florida who were training dogs."
Since training his own dog, Fletcher has become a registered Sound-Alert Dog trainer and dedicated his time to helping his fellow veterans train dogs to help with their hearing damage.
When Cicero died in 2009, Fletcher trained another basenji named Mongoose from the same kennel.
"I would not recommend using basenjis because they are very difficult to train," Fletcher told Public Opinion. "But I trained Cicero because we were already close and decided to continue using them. They are actually the only of the American Kennel Club's dogs to not bark."
Luckily, hearing guide dogs don't need to bark to effectively alert those with hearing loss of sounds like the phone ringing, according to Fletcher.
"If a veteran is deaf or has trouble hearing, they may not even hear the bark to begin with," said Fletcher. He also claims that training a service animal to assist someone with hearing loss can take three to five months, depending on the animal and the person with hearing damage.
"You want to act like it's a game," said Fletcher. "We put a treat at the phone and a treat by you. When the phone rings, get him to come to you and then go to the phone. He gets two treats and realizes that this is a special thing."
Fletcher says he has also been amazed at his dogs' abilities to naturally pick up on cues. For example, without teaching him to do so, Mongoose once alerted him of the kitchen timer sounding, a trick he learned on his own.
Furthermore, hearing guide dogs could help save a life by alerting their owners to sounds like emergency vehicles approaching or smoke alarms sounding.
"A lot of vets I've talked to say that they used to have a lot of missed calls and that isn't convenient," Fletcher said. "But when it comes to things like smoke alarms, it can be a life-or-death situation."
If you or someone you know would like to learn more about hearing loss treatments, please feel free to contact one of our representatives today. They will assist you with your hearing loss questions, help you locate a hearing loss specialist in your area , and work along-side you to improve your quality of life.
Call 877-631-9511 for FREE Consultation