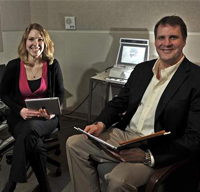 Hearing loss is simply an accepted side effect to making music for many professional musicians in Nashville, who surround themselves with electric guitars, amps and ear monitors on a daily basis.
Many musicians fail to seek treatment for hearing loss out of fear that the condition will negatively affect their careers. Even those who do seek treatment claim that the typical hearing aid is simply inadequate.
"Most hearing aids are designed to pick up sound in a narrow range so that people can hear their family members and loved ones talking," Vanderbilt University professor and published hearing aid researcher Dr. Todd Ricketts told The Tennessean. "And musicians obviously seek more than that."
One of Ricketts' doctoral students in Vanderbilt's audiology program, Kristen D'Onofrio recently launched a study at the Dan Maddox Hearing Aid Research Lab at Vanderbilt's Bill Wilkerson Center, focused on understanding the effects of hearing loss on musicians.
A musician herself, D'Onofrio played the drums in both jazz and rock bands. She recently began conducting tests on Nashville musicians with hearing loss as part of what she hopes will become a series of studies on the issue.
"The hope is that this kind of research can, in some way, contribute to improving hearing aid technology and refine hearing aid fittings for the musician population and for those who appreciate music listening," D'Onofrio told The Tennessean. "I was attracted to this research because of my love for music and my own background playing drums. I try to empathize with musicians about the significance of music and how important it is to them."
The problem of hearing loss among musicians is especially important in Nashville because of the huge music community.
A nonprofit organization that helps give musicians health care, MusiCares sees many professional musicians with hearing loss, according to executive director Debbie Carroll. The nonprofit helped refer musicians to both Ricketts and D'Onofrio for the study.
"It's something our clients talk about frequently and are concerned about," Carroll told The Tennessean.
Nashville drummer Vince Barranco has spent the past 35 years playing for artists from nearly every musical genre in Mississippi, New York and Nashville. About 15 years ago, Barranco began to notice his hearing loss. The drummer uses hearing aids which allow him to continue working, but he commented that he wishes he had taken better care of his hearing from the start of his career.
"It's an industry and an art with a problem you have to be aware of," Barranco told The Tennessean. "When you come in at night, you know if your ears are ringing. But you get to a level during a gig and the energy is such that you have to deliver, it can get loud."
D'Onofrio's study compares the results of hearing tests on musicians with those of non-musicians. She hopes to determine what specifically musicians need from their hearing aids.
Want to learn more about hearing loss and how to treat it? Please feel free to schedule a consultation or contact one of our representatives today!
Call 877-631-9511 for FREE Consultation