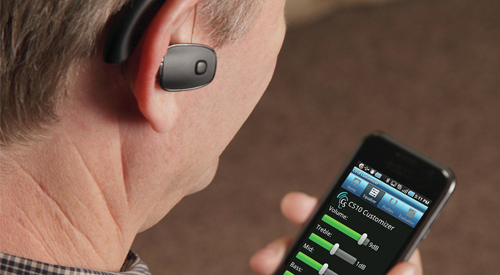 While hearing loss experts have criticized cell phones for damaging hearing, University of Iowa researchers hope that the devices can help improve hearing aid technology.
Participants in a local study, conducted by the University of Iowa Center on Aging, gave feedback on the effectiveness of their hearing aids, using a smartphone app designed by University of Iowa researchers.
The study used a combination of user-initiated surveys, periodic prompts and automatically recorded environmental sound. Researchers hope that the data will help tailor future hearing aid technology to real world demands.
Coralville resident Max Molleston, among the approximately 47 percent of adults age 75 and older with hearing loss, has worked with the researchers since February when he began using both a hearing aid and smartphone for the first time. Despite frustrations about the smartphone interface, the 78-year-old claims he's enjoying the study, especially since it serves a greater purpose.
"I just want people to hear better," Molleston commented to the Iowa City Press-Citizen. "If they're short on their hearing, they're missing out on a lot of life."
University of Iowa began their three-year study in 2012 as a pilot program funded by the National Institutes of Health with a $453,000 grant. A grant from the Roy J. Carver Charitable helps cover the cost of computer science research.
One of the study's lead researchers and a University of Iowa computer science professor, Octav Chipara commented to Iowa City Press-Citizen that audiologists have developed innovative ways to monitor hearing in lab setting over the past few years.
"But unfortunately, when you take one of those hearing aids and actually use it in the real world, it's not going to provide you with the same kind of performance," Chipara explained to Iowa City Press-Citizen.
Chipara pointed towards the patients' relationship with the speaker or their ability to take visible cues as factors that are hard to manipulate in a controlled setting.
"Capturing all these complexities in a laboratory environment is very very complicated," Chipara told Iowa City Press-Citizen. "So what we came up with is the idea of taking the evaluation out of the laboratory and doing it actually in the real world."
Nearsighted since the age of 8, Molleston admits he values his hearing more than his vision.
"I decided a long time ago that if I had to give up something, I would give up my sight so I could still hear Beethoven symphonies," Molleston told the Iowa City Press-Citizen.
In conjunction with one of two hearing aid models, the smartphone app asks user questions, ranging from the size of the listening room and its surface type to the positioning of the speakers and how well the user knows them.
The Center of Aging's co-director and a University of Iowa biology professor, Dr. Bernd Frtizsch commented that the program represents the center's larger effort to strengthen the interface between patients and medical staff.
"Because, in the end, they will be the ones sitting in a chair, listening to sound on the computer and [trying] to understand the voice of their wife at the same time," Fritzsch explained to Iowa City Press-Citizen. "What comes naturally to you is not so simple when you have a hearing aid."
Fritzsch commented that although hearing technology has advanced, the overall assistance cochlear implants provide is limited, comparing the experience of listening with a cochlear implant to viewing pixilated low-res images on a computer.
"That's how you hear, basically, with a cochlear implant," Fritzsch told Iowa City Press-Citizen. "Bits and pieces of things."
According to Chipara, a new study trial will begin in late August or early September and end in 2015.
If you or someone you know would like to learn more about hearing loss and how to treat it, please feel free to schedule a consultation or contact one of our representatives today!
Call 877-631-9511 for FREE Consultation