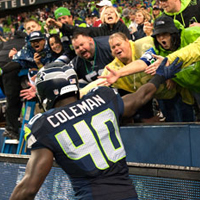 CenturyLink Field has become famous in recent years for the amount of noise generated by Seattle Seahawks fans during games. Guinness officials have been on hand to award the record for loudest crowd roar at an outdoor event to Seattle TWICE this season (in the intervening weeks they were briefly bested by Kansas City Chief fans before reclaiming the record). All that noise is known to rattle players, but one who takes it in stride is Seahawks fullback Derrick Coleman, who is legally deaf.
Blazing A Trail
Coleman, who has worn hearing aids since the age of four, became the first legally deaf offensive player in NFL history earlier this season (defensive tackle Bonnie Sloan, born deaf, played briefly in the league in 1973 before suffering a career-ending knee injury). Coleman broke another barrier by scoring his first touchdown in a December 2 game against the New Orleans Saints.
Early Hearing Loss
Coleman told MyNorthwest.com that his mother first noticed that he was experiencing hearing loss when he was three years old. His trouble speaking alerted her to the problem and caused her to take him to an audiologist, who determined that Coleman was losing his hearing. Within a year, he was fitted with hearing aids that were pretty much a permanent fixture. He never found out what caused his hearing loss, but suspects that genetics may have played a role.
"Never A Problem"
While the disadvantages of not being able to hear while playing football seem obvious - being unable to hear a tackler approaching from the blindside or the warning of a teammate not in your line of sight - Coleman claims that he has never had any issues in a football career that spans high school ball in Fullerton, California, college at UCLA, and now NFL action for the Seahawks. "If you talk to any of my college coaches or go back to my high school coach, I never really had an issue with that," he explained to MyNorthwest.com. With the help of his hearing aids, Coleman can hear normal-volume one-on-one conversations, and on the field he can utilize his ability to read lips to get play calls and adjustments from his teammates and coaches.
Advantages?
Not only does Coleman downplay any disadvantages his deafness might pose on the football field, he also cites a few advantages. Crowd noise never affects him: "It doesn't really matter so much to me because I'm able to tone all that out. I don't have to worry about that. Even if we go to an away game, when it's already loud, I'm able to read people's lips." That lip reading can come in handy in other ways; Coleman recalled a specific play in high school when his coach had him read the opposing coach's lips across the field to know what play was coming and shift the defense to shut it down.
Making A Difference
Coleman is using his position in the NFL spotlight to deliver an inspirational message. On a recent visit to Tacoma's Baker Middle School, he spoke to 100 deaf students about not using their hearing loss as an excuse to not follow their dreams. He summarized his speech to MyNorthwest.com:
"The biggest thing I always emphasize when I talk to them is go out there and be yourself. Follow your dreams no matter what it is. Everybody has problems and the best thing to do is just don't use an excuse. What can you do to make it work? If you want to be a football player, if you want to be a basketball player, always see that as achievable. Most people say I wouldn't be able to play football. But if somebody tells you you can't do something that should be something you want to do. Don't make any excuses. People don't like excuses. If somebody makes an excuse to you, you're not going to like it. So what makes you think they're gonna like it?"
For more information about hearing loss and hearing loss treatment, visit findhearingaids.com or contact us for a consultation.
Call 877-631-9511 for FREE Consultation