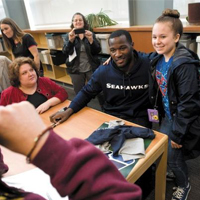 Derrick Coleman has been making news all year. The legally deaf Seattle Seahawks running back has garnered plenty of media attention as he has achieved plenty of NFL firsts for a deaf player: first deaf man to play offense (defensive tackle Bonnie Sloan, born deaf, played briefly in the league in 1973 before suffering a career-ending knee injury), first to score a touchdown, and now first to play in the Super Bowl. But now he's sharing the spotlight with a couple of his fans.
Riley and Erin
Nine-year-old twins Riley and Erin Kovalcik love sports. They play lacrosse, basketball, soccer, and softball, and they also like watching sports, including professional football. When they saw
Coleman's Duracell commercial, celebrating his hard work, perseverance, and refusal to listen to critics who doubted him because of his deafness, the girls instantly became Derrick Coleman fans. And it's only logical that they would root for Coleman: like him, Riley and Erin play sports despite needing to wear hearing aids. Riley has worn hearing aids in both ears since she was one year old, and Erin wears a hearing aid in one ear.
An Inspirational Role Model
"It was inspiring because it was so exciting that a football player – such as Derrick Coleman – actually has hearing loss and he can actually play," Riley told Seattle's KOMO News. "I almost wasn't allowed (to play sports) because they were afraid I was going to hit my head and they were afraid that I would lose my hearing."
The girls' father, Jake, explained to KOMO News the effect Coleman's example has had on his daughters, saying "From the time that they were little, we did everything we could to make sure they were treated exactly like normal kids. It's only a handicap if you make it one. As Derrick has shown, it's a little bit of something you have to overcome, but hard work, determination gets you everything you want."
Contacting Their Hero
After seeing the commercial and watching Coleman play for the Seahawks, Riley was moved to write to him. She sent him a letter, a picture of which Jake tweeted, garnering a couple thousand retweets from as far away as Australia. The letter read, in part, "I know how you feel. I also have hearing aids. Just try your best. I have faif [sic] in you Derrick."
Coleman wrote a letter of his own in response, tweeting a picture of it to Jake with the message "Your girls are awesome! Read them my letter back when you can! Thank you for the support! Means a lot!" Coleman's letter read:
"Really was great hearing from a fan who I have so much in common with," Coleman writes. "I appreciate you rooting for the Seahawks and me and hope you continue to do so when we play in the Super Bowl!
"I want you to know that I always try my best in everything I do and have faith in you and your twin sister too. Even though we wear hearing aids, we can still accomplish our goals and dreams! If you or your family [are] ever in Seattle, I hope we can all get together and play some sports or games!"
Speaking to the media about Riley's letter before a Super Bowl practice, Coleman said "I just want to say thanks. It's great to know that she's just sending a letter saying thanks, saying she had faith in me. She's making me feel welcome. Normally I'm out there trying to have other people do that, but she's out there helping me out, so it kind of goes both ways."
Riley and Erin, who live in Roxbury, New Jersey, 40 minutes from MetLife Stadium, the site of the Super Bowl, hope to get a chance to meet Coleman while the Seahawks are in New Jersey. Riley Told KOMO News that if she does get to meet Coleman, she would tell him, "Thank you for getting me this far and inspiring me to write all this letters and stuff like that." Added Erin, "And good luck at the Super Bowl!"
For information about hearing loss solutions, visit findhearingaids.com or contact us for a free consultation.
Call 877-631-9511 for FREE Consultation