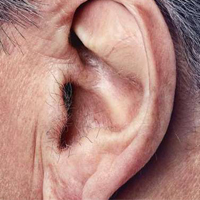 Although rare infections and uncommon yet life-threatening diseases tend to get more attention in the medical world, there are numerous common but less serious conditions that need researchers' attention as well, hearing loss among them.
Luckily, hearing loss researchers are currently developing an experimental drug that could regenerate hair cells in the inner ear that sense sound. If successful, this drug could make a difference for millions of hearing loss sufferers.
About a year ago, Massachusetts Eye and Ear Infirmary researchers discovered that when administered to deaf mice, an experimental drug could regenerate hair cells in the inner ear that sense sound and restore hearing.
An associate professor at Harvard Medical School and Mass Eye and Ear who led the original study, Albert Edge founded the Dutch startup company Audion Therapeutics to help bring the experimental treatment to patients while he continued research.
Audion announced a deal in February with the pharmaceutical giant Eli Lilly and Co., allowing the startup to develop certain compounds Lilly uses to treat hearing loss. Edge commented that he may be able to safely test the drug in a small clinical trial within a few years.
Edge and his researchers are attempting to unveil the scientific process behind the regeneration of delicate hair cells. Scientists have known for years that birds and fish could regenerate these hair-like sensory cells in the inner ear, but only last year did they discover that mammals could regenerate the cells as well.
The research team reported in the journal Stem Cell Reports in February specifically which cells are becoming the new hair cells after using cellular markers to trace these cells. The insight isn't useful in Audion's development of the first-generation drug to test in people, since the drug will not specifically target one kind of cell. However, the detailed knowledge of the regeneration process could help guide future efforts to create therapies.
"This is really basic work that I think would help more in other future treatments or therapies that we're working on," Edge told the Boston Globe. Edge is currently pursuing a wide range of strategies from traditional drugs to gene therapy.
If you or someone you know would like to learn more about hearing loss and how to treat it, please feel free to schedule a consultation or contact one of our representatives today!
Call 877-631-9511 for FREE Consultation