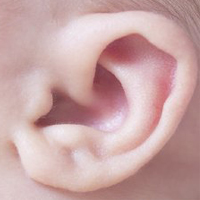 About 100,000 hearing-impaired children are born in India every year. Unfortunately, the country lacks universal screening programs to identify hearing damage. India is simply one of a number of low- or middle-income countries where hearing loss is prevalent.
"At age 3, people realize, 'Oh my god, she's not saying anything,'" Neeti Kailas explained to the Washington Post. "By the time the parents go to the pediatrician and get sent to someone else and then finally she gets a hearing screening, she's already lost speech. Speech loss is preventable if a baby is diagnosed early enough and given the right rehabilitation."
Kailas and her husband Nitin Sisodia founded the Sohum Innovation Lab in India and developed a prototype for an infant hearing loss detection device. The Rolex Awards for Enterprise honored Kailas and four other young laureates for taking on some of the most challenging projects in the world.
Unfortunately, finding a quiet place to conduct an infant hearing test is difficult, since newborn wards and hospitals tend to be naturally noisy. Luckily, Kailas' headband-like device tunes out ambient noise, making it effective in noisy settings. The battery-powered device's electrodes identify brain activity linked with good hearing. Kailas expects the device to cost about 4,000 dollars, but she is currently investigating ways to make the product more affordable.
Kailas will receive about 56,000 dollars, or 50,000 Swiss francs, from Rolex, which she will use for clinical trials later in 2014. She plans to launch the device in 2016.
Other Rolex award recipients include Saudi Arabian Hosam Zowawi, currently developing a test for drug-resistant bacteria, Arthur Zang of Cameroon, developing a heart disease diagnosis tablet, Rwandan Olivier Nsengimana, who seeks to preserve Central Africa's Grey Crowned Crane population and Italian geologist Francesco Sauro, who is exploring remote caves in Venezuela and Brazil. A panel of eight experts selected these five winners from a pool of about 1,800 applicants.
Kailas graduated with a master's degree from the Art Centre College of Design as well as the INSEAD business school partnership program. Her backgrounds in design strategy and business management, as well as her diverse work in five different countries over the past 10 years, have helped her bring innovative products to market from the Sohum Innovation Lab.
Sohum's co-founder Sisodia earned a graduate degree in electrical engineering from the National Institute of Technology in Bhopal and a post-graduate degree in design from the National Institute of Design in Ahmedabad. A 2010 Stanford India Bio-design fellow, he has created innovative products with national and international companies. The MIT tech review named him "innovator under 35" 2013.
If you or someone you know would like to learn more about hearing loss and how to prevent or treat it, please feel free to schedule a consultation or contact one of our representatives today!
Call 877-631-9511 for FREE Consultation