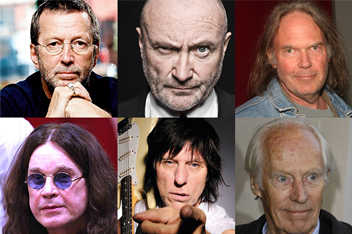 While musicians can be calm, quiet and introspective at times, most of their careers involve being loud. Imagine not simply attending one concert every so often, but performing at concerts close to large blaring speakers and noisy crowds every day or week. These loud noise levels can certainly cause significant hearing damage over the years. Various musicians, from Phil Collins to Ozzy Osbourne, have confessed to their own struggles with hearing loss.
Phil Collins
Having received numerous awards, from Oscars to Grammys to Golden Globes, Collins has enjoyed a long lasting successful career, both as Genesis founder and as a solo musician. In 2011, Collins announced that he would no longer tour due to hearing damage that had been plaguing him for years on end.
George Martin
Often referred to by sources as the "Fifth Beatle," Martin heavily influenced the landmark British band, producing for them among many other distinguished musicians from Elton John to America. Unfortunately, the producer was recently forced to retire due to hearing damage that caused his ears to lose the special touch that made Martin famous.
Neil Young
Twice elected to the Rock and Roll Hall of Fame, Young has created more than thirty albums and enjoyed both popular and critical success with ballads and rock masterpieces. Through the years, he has developed hearing loss and tinnitus, a persistent ringing in the ears, which may have led to his obsession with soft, acoustic music in the '90s.
Ozzy Osbourne
One of the most successful musicians of all time, Osbourne pioneered the early heavy metal movement as the lead singer of Black Sabbath. More recently, Osbourne has helped revive concert series by founding Ozzfest. Understandably, after years of performing heavy metal at overwhelmingly loud volumes and living an alternative lifestyle, Osbourne suffers from significant hearing loss.
Jeff Beck
Ranked as the fourteenth greatest guitarist of all time by Rolling Stone, Beck has influenced multiple music genres, from heavy metal to electronica to progressive rock. Unfortunately, years of putting his guitars to the test over the years has left Beck with moderately painful tinnitus.
Eric Clapton
The only artist to make the Rock and Roll Hall of Fame three times, Clapton took numerous acts, including The Yardbirds, Cream and Derek & The Dominoes, to worldwide fame. In the process, he faced drug addiction, alcoholism and tinnitus, causing his hearing to diminish considerably.
If you or someone you know would like to learn more about hearing loss treatments or hearing aids in general, please feel free to contact one of our representatives today.
Call 877-631-9511 for FREE Consultation