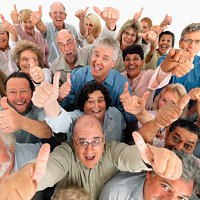 For baby boomers, life has been one long concert. And with so many decades of such a rocking good time, maybe you have noticed your hearing is not what it used to be. A life full of living can be hard on your senses, especially your hearing.
Fortunately, in the last few decades there have been remarkable developments in hearing loss technology. Baby boomers might be shocked to find out that hearing loss technology has improved significantly. This isn't your grandmother's car battery hearing aid we're talking about.
These days, hearing aids are practically invisible and are designed to be both discreet and comfortable inside the ear canal of their users. A whopping eight of ten people who use hearing aids have confirmed satisfaction.
The wireless hearing aids of today are now made specifically for each person. Options are even available to stream sound directly from your home entertainment system or smart phone into a hearing aid carefully measured at the ideal volume for you.
If you feel you're suffering from hearing loss, check out the following steps to help ease your transition.
Creating Your Best Potential
Being able to hear helps you do your best at work. A recent medical student revealed that those equipped with hearing aids were 90 to 100 percent less likely to suffer from income loss for individuals with milder hearing loss.
Of course, it goes without saying that those with hearing loss issues who actively use hearing aid technology are also more likely to stay employed than those choose to do without.
Increase Your Capacity of Intimacy
Remaining close with your family and loved ones is critical during prolonged periods of emotional duress and any foundation for any healthy relationship is communication. When a person opts to let their hearing loss go unchecked, it can threaten even the closest bonds and connections. Doctors agree that hearing aids have been cited as positive influence on interpersonal relationships.
Better Control of Your Mood and Stress
Hearing loss and impairment is stressful for everyone. It has been reported that people with untreated hearing loss are prone to feeling isolated, frustrated, anxious, angry and even depressed. However, many of these same individuals encountered emotional stability as well as a sense of safety and improved quality of life once they established consistent hearing aid use.
Boosting Your Own Sense of Self-Confidence
Yet another motivation to use hearing aids includes the augmented sense of emotional well being. A study with the Better Hearing Institute (BHI) revealed that an overwhelming majority of people with both mild and severe hearing loss felt an improved sense of life and self-worth as a consequence of using hearing aids.
Recuperating Cognitive Functioning
Studies at John Hopkins have discovered links between hearing loss and "accelerated cognitive decline" in older adults. In other words, prolonged untreated hearing impairment could lead people to developing dementia. However, many of these cognitive skills are improved with the steady use of hearing aids.
So what are you waiting for? Schedule your hearing consultation today!
Call 877-631-9511 for FREE Consultation