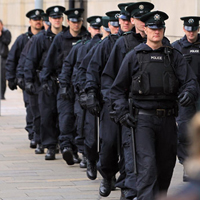 The final bill for settling former Royal Ulster Constabulary officers' hearing loss claims could be nearly 400 million dollars.
The government has paid out nearly 225 million dollar to the officers. Justice Minister David Ford revealed that it will cost about 170 million dollars more to settle outstanding hearing loss claims during the next five years, bringing the total estimated cost to about 395 million dollars, according to BBC News.
Legal sources commented that they expect significant numbers of new hearing loss claims will be lodged over the next five years.
Despite the RUC's awareness in the mid-1960s that officers engaged in firearms training should have been provided with proper ear protection, they were not given industry standard protection until the late 1990s.
More than 20,000 officers underwent firearms training before adequate ear protection was introduced. BBC News revealed in January that by the end of November, the RUC had paid out nearly 225 million dollars to over 8,500 former police officers.
About half of that sum, more than 105 million dollars covered legal fees. The government still needs to settle more than 2,000 claims.
According to BBC News, Sinn Fein West Tyrone MLA Declan McAleer asked Ford if he was aware "of the growing level of public frustration at the cost of this scheme to the public purse?"
"It is an operational issue for the chief constable, it is administered by the PSNI and not by the Department of Justice and as it is an operational issue, responsibility lies with the chief constable," Ford explained to BBC News.
The minister said that his department would fund the first 20 million dollars of the cost each year and the Westminster treasury will pay the remainder. The payments follow the Patten redundancy scheme for RUC officers, which cost over 800 million dollars.
The combined bill for compensating officers for hearing loss or early retirement could come to over 1.2 billion dollars.
If you or someone you know would like to learn more about hearing loss and how to treat it, please feel free to schedule a consultation of contact one of our representatives today!
Call 877-631-9511 for FREE Consultation