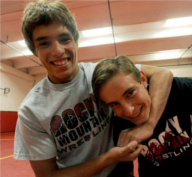 Rocky Mountain High School wrestler Alex Jennings may suffer from hearing loss, but with his hearing aids, this athlete can tackle anything.
While Alex and his twin Zac-- born prematurely at 28 weeks-- both had health issues at birth, Alex's were more severe. Doctors explained numerous times that Alex wouldn't live through the night when he began battling a violent infection, among other health issues, at two weeks.
Alex did survive the night and every night after for 17 years, but the antibiotic the doctors used to fight the infection stunted the growth of his inner ear, causing significant hearing loss, according to his mother Andrea.
Most people can't even tell that Alex is nearly deaf. He claims that more people ask him about his Mormon faith and his large family, as he is one of seven children.
Although others tend not to question him, Alex is more than happy to discuss his red and gold (Rocky Mountain High School's school colors) hearing aids with his classmates who see him wear them every day. His dad Paul comments that Alex's audiologist taught him to embrace his hearing aids proudly.
Alex claims that he has never felt self conscious wearing his hearing aids, since he has worn them his entire life. His friends playfully joke about the device, but because of his genuinely kind personality, no one has ever felt the need to bully Alex.
Embracing Hearing Loss
Paul claims that his son learned to speak so well that most people were unaware of his hearing loss growing up. The proud father says that Alex has handled his hearing impairment very well and accepts it as a part of his life but doesn't let it define him. Alex has also never used his hearing damage as an excuse for failure.
The rising high school senior removes his hearing aids during wrestling matches, relying instead on hand signals and a ref's pat on the back. His coach Ken Taylor claims that Alex has a solid shot at making the school's varsity roster this season.
A Bright & Clear Future!
His teammates, friends and coaches have been a huge support over the years, Alex says. The high school wrestler has never been bullied for his hearing loss. He has fully embraced the person he was born to be and has wonderful hopes for his future.
Alex is a magnificent case of a young person taking on a handicap and not letting external influences hold them back from achievement. Alex's story also brings light to the fact that hearing loss doesn't just affect the elderly. If you would like to know more about your options for hearing restoration please contact our team of representatives today or search for a hearing loss specialist in an area near you!
Call 877-631-9511 for FREE Consultation