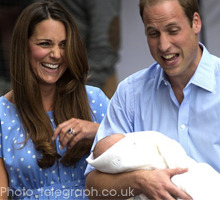 A United Kingdom hearing loss charity has gifted the royal couple with a baby monitor for their son: Prince George of Cambridge.
The Duke and Duchess of Cambridge are breaking from centuries of royal tradition and caring for Prince George themselves for the first few weeks of his life rather than employing a nanny.
To support the hands-on royal couple, 'Action on Hearing Loss' has stepped in with a baby monitor that features state-of-the-art video monitoring technologies, so that the new parents can both hear and see their sleeping newborn.
'Action on Hearing Loss', the United Kingdom's largest charity for the deaf and hard of hearing, offers a diverse spread of services for people experiencing hearing loss. The organization, previously known as the RNID, aims to achieve a radically better quality of life for people with all levels of hearing loss, including the profoundly deaf, throughout the United Kingdom. Their work ranges from campaigning and lobbying to providing training, products and equipment to medical and technological research.
Baby care and safety are clearly important considerations for any parent. The royal couple has demonstrated their own expertise by leaving the hospital with Prince George safely tucked into a baby car seat!
Nonetheless, Will and Kate will have a difficult time getting shut eye with the new baby at home. The 'Action on Hearing Loss' is the ideal gift for the Duke and Duchess and any new parents, deaf or hearing.
Keeping an Eye- And an Ear – On Prince George
The $200 baby monitor, which features a built in camera and screen to monitor movement as well as sound, is perfect for any parent, regardless of hearing loss level, who wants to keep an eye on their baby!
The monitor's vibrating pad slips underneath the new parents' pillow to alert them during the night, while flashing colored lights alert them during the day. The camera's automatic features switch the device to infrared night in darkness to ensure good visibility any time of the day. Parents can monitor the nursery's temperature remotely and even have a two-way conversation between monitors.
'Action on Hearing Loss'' Chief Executive Paul Breckell congratulates the royal family and adds that he and the rest of the charity, partly supported by the Duke of York, felt it appropriate to send the duke and duchess a practical gift that both hearing and non-hearing parents can use to safely care for their newborns.
If you or someone you know would like to learn more about hearing loss treatments or hearing aids in general, please feel free to contact one of our representatives to locate a hearing loss specialist in your area today!
Call 877-631-9511 for FREE Consultation