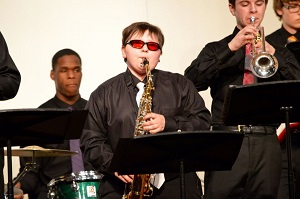 High school is tough enough for most people. Between navigating the cliques and tackling the endless mounds of homework, it can seem overwhelming. But for Rachel Pavone, a senior at Grand Blanc High School in Michigan, her challenges in school (and in life) are intensified due to an extremely rare genetic disorder, which has left her hearing-impaired, diabetic and blind.
One Bad Gene
The disorder that Rachel suffers from is called Alström Syndrome. First identified in 1959 by a Swedish doctor named Carl-Henry Alström, the disease leads to significant dysfunction affecting numerous systems in the body.
Chief among these problems is blindness, caused by the progressive breaking down of the cells in the eyes. Additionally, Alström Syndrome often disrupts the connections between auditory nerves and the processing centers in the brain, resulting in hearing loss. As if these issues aren't bad enough, the disorder also causes obesity, diabetes and heart failure, as well as developmental delays and learning disabilities.
All of these complications are the result of mutations to a single gene in the body. So far, researchers have found nearly 80 different mutations that cause elements of Alström Syndrome.
The one bright spot to this disorder is that it is remarkably rare. To date, only about 900 cases have been reported worldwide. And despite the myriad disabilities that the disease produces, sufferers like Rachel still find that they're capable of having a high quality of life.
Love of Music
Rachel Pavone discovered her passion for music early on. In fifth grade, while testing out instruments to see if band was something she wanted to pursue, Rachel fell in love with playing the alto saxophone.
At the time, Rachel's eyesight was significantly better. She was able to learn to read music and follow along with the rest of the band during performances. Now, however, due to the progression of her disease, Rachel plays mostly by ear.
Still, she has not let her disorder limit her musical ambitions. In addition to playing the saxophone, Rachel has also played the drum pad, synthesizer and timpani during concerts throughout her high school career. Moreover, Rachel also marched with the band during pre-game events for the first three years of high school.
Rachel's story is a positive reminder that disabilities aren't an unconquerable impediment to success. The teen has had to deal with a lot in her young life, and yet she continues to reach her goals and create new ones.
If you or someone you know would like to learn more about hearing loss and how to treat it, please feel free to schedule a consultation or contact one of our representatives today!
Call 877-631-9511 for FREE Consultation