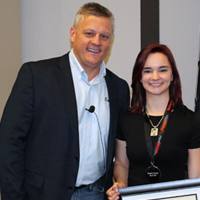 When EarQ president Ed Keller launched his company in 1999, he had one vision in mind: keep local hearing aid providers relevant and supported despite a largely unknowable global economy and seismic shifts in technology.
Flash forward nearly fifteen years later; Keller and his company have become so successful that he could expand his operations. In 2013, Keller initiated the HearStrong Foundation to promote people who are overcoming the everyday challenges of hearing loss. The company also serves to assist those who are seeking help.
HearStrong
"We had grown successfully to be one of the largest providers in central New York," Keller told AuburnPub.com. "We've been very fortunate to have great success."
EarQ is a success and HearStrong is growing day by day. Keller states in his interview that his employees have volunteered their precious time and resources but now he wants to branch out across the country.
Hearing Loss Today
According to Keller, there are a whopping 36 million Americans with one form of hearing loss or another. Keller claims 30 million of these individuals go without treatment. This includes teenagers suffering from hearing loss and over half of all the combat veterans returning from service.
"We take it for granted," Keller elaborated. "Hearing is not tangible. Vision is tangible."
Hearing loss has recently been linked to other serious illnesses including but not limited to heart disease, diabetes, cancers, hypertension, and even depression.
The Mission of the Foundation
Keller's company strives to improve upon that situation. HearStrong fights the stigma and helps people take the first step toward treating their hearing loss, while EarQ connects providers with patients and acknowledges people who are succeeding in life in spite of their hearing loss.
"As people do something about it, they're starting to live full lives and they're being empowered," Keller commented to AuburnPub.com. "What we do in the face of challenges is what defines us."
If you or someone you know is curious about your own hearing restoration plan, please contact our team today.
Call 877-631-9511 for FREE Consultation