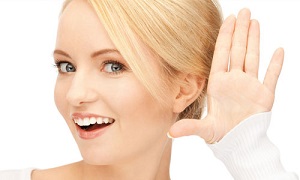 If it feels loud, it is loud, according to the Listen Carefully campaign.
The Starkey Hearing Foundation started the non-profit movement with a mission to prevent a hearing loss pandemic and to educate on noise-induced hearing loss. With 1 in 6 teens suffering from noise-induced hearing loss (NIHL), the campaign is calling out to students across the country to create a Public Service Announcement (PSA). Since "very few people know" about the problem, the foundation launched a video contest with a private Aloe Blacc Show as the prize.
"From the studio to the stage, my hearing is a critical part of my art," said Interscope recording artist Blacc. "I am so honored to join Listen Carefully to help raise awareness about noise-induced hearing loss and look forward to performing at the school of the video contest winner.
Have you heard? That is the question Listen Carefully is asking in order to get the word out on hearing protection. Question answers like "teen hearing loss has increased 30% in the last decade" and "common daily activities can damage your hearing" flash across the organization's educational website. The Listen Carefully campaign release further reports, "football games, concerts, portable listening devices, lawn mowers and even hair dryers can damage kids' hearing in as little as 10 seconds."
There are different types of hearing loss: conductive, which involves damage to the outer and middle ear; sensorineural hearing loss, damage to the inner ear; mixed hearing loss, both conductive and sensorineural; and central hearing loss, in which parts of the brain are non-responsive.
"At the core of creating a revolution in hearing health is the conscientiousness that teenagers must develop regarding their own ears," said. Dr. Vanessa Rothholtz, board-certified otolaryngologist in Los Angeles, California. "This begins with education and influences in their environment, such as the music industry, their parents and their friends. However, it is ultimately the young adult's responsibility to actively participate in the protection of their hearing."
According to KidsHealth.org, "personal music players are among the chief culprits of NIHL among teens," with movie theaters, television sets, video games, traffic and even appliances factoring into the condition. "Many experts believe that people are losing their hearing at much younger ages than they did just 30 years ago," Listen Carefully reported to KidsHealth.org.
Starkey Hearing Foundation co-founder Tani Austin said NIHL is permanent but often preventable.
"We hope this contest will help provide a creative way for students to learn and educate their peers about the long-term health dangers associated with high-volume sounds," Austin said.
Fitting and donating more than 100,000 hearing devices each New Year as part of President Clinton's Global Initiative, the foundation donated more than 175,000 to patients of all ages in 2013. Also through the Hear Now program, the foundation supplies hearing devices to financially disabled families.
Listen Carefully is accepting 30-video submissions from teens aged 13 to 18 years-old until December 31, 2014, and will announce the winners February 1, 2015.
If you or someone you know would like to learn more about hearing loss and how to treat it, please feel free to schedule a consultation or contact one of our representatives today!
Call 877-631-9511 for FREE Consultation