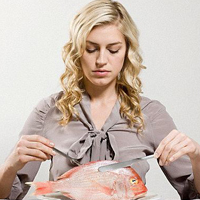 Want to cut your risk of hearing loss?
According to the National Institutes of Health, more than a third of people over the age of 65 suffer from hearing loss.
However, women who eat fish on a regular basis have a lower hearing loss risk than women who rarely or never eat fish, according to a recent study in the American Journal of Clinic Nutrition.
Eat a Fish, Save Your Hearing?
Dr. Sharon Curhan, the study's co-author and researcher at Brigham and Women's Hospital, commented that women who ate at least two servings of fish per week had a 20 percent lower risk of hearing loss.
Curhan and her colleagues suspected that some types of fish might protect more against hearing loss than others, but their hunch was wrong.
"Eating any type of fish – whether it's tuna, dark fish [like salmon] or light fish was associated with a lower risk," Curhan explained to NPR.
Fatty fish contain omega-3 fatty acids, which are linked to a wide range of health benefits, including decreased risk of heart disease, depression and even memory loss.
"Omega-3 antioxidants, polyunsaturated fatty acids and vitamin C have been the focus of a growing body of evidence showing potential hearing benefits," Dr. Gordon Hughes, program director of clinical trials for the National Institute on Deafness and Other Communication Disorders, commented to NPR.
The new findings stem from the Nurses' Health Study, a long-term research study that includes more than 100,000 nurses. The nurses ranged from ages 27 to 42 when they began detailed surveys about what they ate and drank on a regular basis. They also provided information about hearing problems and the ages at which they first noticed any hearing damage.
Curhan explained that high fish consumption could help maintain adequate cochlear blood flow, which in turn could protect against hearing damage.
Fish is the New Black?
The researcher and her colleagues are not the only ones to document a link between fish consumption and hearing loss. An Australian study of about 800 men and women also found that those who ate fish had a lower incidence of hearing loss.
Curhan noted that Americans have a lot of room for improvement, pointing out that only a third of Americans eat fish at least once per week and nearly half eat fish either occasionally or not at all.
If you or someone you know would like more information about hearing loss and how to treat it, please feel free to schedule a consultation or contact one of our representatives today!
Call 877-631-9511 for FREE Consultation