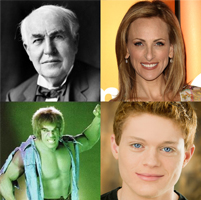 Hearing loss is a common problem that afflicts many people at varying degrees, whether they realize it or not. For many, the problem occurs gradually over time, but for some, hearing damage occurs early in life.
Numerous past and present celebrities, from Marlee Matlin to Thomas Edison, have suffered early hearing loss over the years.
Marlee Matlin's journey with hearing loss
The only deaf performer to win the Academy Award for Best Actress in a Leading Role for Children of a Lesser God, Matlin is a prominent member of the National Association of the Deaf.
Born in Morton Grove, Illinois, Matlin lost all hearing in her right ear and 80 percent of the hearing in her left ear at the age of 18 months. She comments in her autobiography, I'll Scream Later, that her hearing loss may have been caused by a genetically malformed cochlea.
Matlin's film and television acting has led to a Golden Globe award and two nominations, as well as four Emmy nominations. A finalist on NBC's The Celebrity Apprentice, she finished second place as she competed to win money for her charity, The Starkey Hearing Foundation.
Lou Ferrigno
Perhaps best known for portraying the title character in CBS' The Incredible Hulk, Ferrigno also appeared in the bodybuilding documentary Pumping Iron.
Although not diagnosed until the age of three, Brooklyn-born Ferrigno lost 75 to 80 percent of his hearing through a series of ear infections soon after he was born. Having used hearing aids since the age of five, the actor and professional bodybuilder claims his hearing loss contributed to his sense of determination and strength of character, especially when he was young.
Thomas Edison
The well-known inventor of the phonograph, motion picture camera and electric light bulb, Edison is also credited with the creation of the first industrial research laboratory.
Edison experienced hearing loss at an early age, likely from his childhood bout of scarlet fever and multiple untreated middle-ear infections. Edison himself attributed his hearing problems to being struck on the ears by a train conductor when his chemical laboratory caught fire in a boxcar. Later in his career, he claims that the injury actually occurred when the conductor lifted him by the ears to help him onto a moving train.
Sean Berdy
Noiminated for TV Breakout Star at the Teen Choice Awards in 2011, Berdy portrays Emmett Bledsoe, one of two deaf characters in Switched at Birth.
As a deaf actor and comedian, most of Berdy's appearances in film and television, including The Sandlot 2, The Bondage and ASL films The Deaf Family and The Legend of the Mountain Man, feature his use of his native language, American Sign Language. As a sophomore at the Indiana School for the Deaf, Berdy was named the 2010 Mr. Deaf Teen America, a pageant started in 1999 by the Model Secondary School for the Deaf.
If you or someone you know would like to learn more about hearing loss treatments or hearing aids in general, please feel free to schedule a consultation or contact one of our representatives today at .
Call 877-631-9511 for FREE Consultation