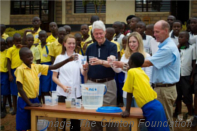 Former President Bill Clinton and his daughter Chelsea Clinton joined Starkey Hearing Foundation's hearing professionals in early August to help give customized hearing devices to about 400 people in Livingstone, Zambia and Kigali, Rwanda as part of the foundation's campaign 'Clinton Global Initiative Commitment to Action.'
The 'Clinton Global Initiative' aims to provide one million hearing aids to people in need this decade. The foundation is nearly 40 percent ahead of schedule on its commitment and has fitted more than 165,000 hearing aids in the past year alone! The former President has remained an amazing humanitarian in his post-office years.
"Starkey Hearing Foundation is empowering people around the world to achieve a better life through the gift of hearing," said Clinton. "Chelsea and I were honored, as we always are, to help the great Starkey staff fit people, many of whom had never heard before, for hearing aids."
The Clintons personally fitted patients with new hearing aids in both Zambia and Rwanda. The former President has spoken at Starkey's annual So The World May Hear Awards Gala for the last four years and joined the foundation on missions in both Colombia and Uganda in 2012.
Global Hearing Restoration Efforts
A global epidemic, disabling hearing loss affects more than 360 million people worldwide, according to the World Health Organization (WHO). In many cases with the help of a hearing aid, hearing loss can be corrected, giving an individual the opportunity to better connect with the world around them.
"Hearing is the basis for communication and human connection," said Bill Austin, who founded the Starkey Hearing Foundation. "It opens doors and gives individuals the power to seize opportunities and reach their full potential in life. The support we received from President Clinton and the Clinton Global Initiative has enabled us to build vital partnerships and touch more lives than we ever thought possible."
Mission partners Global Health Corps and Bridge2Rwanda joined the foundation in Rwanda, while actors Jesse Eisenberg and Dakota Fanning worked with the team in Zambia. Joined by Tanzanian-born Hasheem Thabeet of the NBA's Oklahoma City Thunder, the foundation made an additional stop in Tanzania, in-between missions to Zambia and Rwanda, to gift hearing devices to more than 200 people.
As you can see, hearing loss is an affliction that just doesn't take its toll on the young and old in North America alone. Hearing loss affects people in every country around the world. The Starkey Hearing Foundation and the Clintons are inspiring examples of philanthropy. Check back in to FindHearingAids.com for updates to the 'Clinton Global Initiative' and other hearing loss charities. If you would like to learn more about hearing loss or would like to speak to a hearing loss specialist, please contact our team of representatives today.
Call 877-631-9511 for FREE Consultation