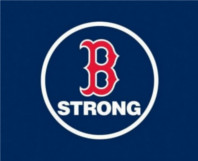 Dozens of Boston Marathon bombing victims are currently participating in a three-year study of the effects of blast traumas on hearing loss.
Led by the principal investigator Alicia Quesnel, HMS instructor in otology and laryngology at Massachusetts Eye and Ear, the study will examine post-blast trauma to the ear and follow about 100 patients, receiving ongoing care and long-term monitoring at eight Boston-area hospitals. Daniel Lee, HMS associate professor of otology and laryngology and Aaron Remenschneider, a fifth-year resident in the HMS otolaryngology residency program, will co-lead the study with Quesnel.
First Response Hearing Evaluations
Both Quesnel and Remenschneider were among the numerous Massachusetts Eye and Ear otologists and audiologists rushed to Massachusetts General Hospital to evaluate and treat patients after the bombing.
"Because the attacks happened in the afternoon, we were fortunate that we had a heads up that patients were probably going to be coming our way," said Remenschneider. "So, there was a cadre of nursing staff, audiologists, other residents and attending physicians who stayed on to take care of the initial wave of patients. As the on-call resident, I worked through the night and began to see patients in intensive care at Mass General, many of whom had serious injuries, some of which required amputations."
Throughout the evening, Remenschneider communicated with his colleagues at Brigham & Women's Hospital and Beth Israel Deaconess Medical Center, who had also been treating a wide range of ear injuries.
Massachusetts Eye and Ear's otologists and audiologists sometimes treat patients for trauma-related injuries, but blast trauma patients are rare. The marathon bombing patients reported mild symptoms, from ear pain to disequilibrium. Other reported symptoms included decreased hearing on one side, a hollow sound in the ear, hyperacousis or increased sensitivity to sound and tinnitus. Doctors treated patients with sensorineural hearing loss with oral steroids.
Some patients came to the hospital immediately to treat their hearing problems, while others scheduled appointments a few days later, after realizing they had experienced hearing damage. Remenschneider treated patients with more severe damage like extensive soft-tissue injuries to their ears and burns to their heads and necks from shrapnel, beads and pellets.
"In one patient I treated, hot sparks from slags had entered and burned the ear canal, which completely destroyed his eardrum," Remenschneider said. "This caused significant inflammatory response within the lining of the ear. He suffered maximum hearing loss because of this. The other issue with tympanic membrane perforation is that skin can get blown into the ear canal and over time that can lead to a skin cyst, which can be destructive."
Quesnel, Lee and Remenschneider consulted the help of Michael Hoffer, a neurootologist specializing in neurological ear disorders and leading expert in blast exposure head injuries. Hoffer provided guidance on how to best help the bombing patients and helped the three otologists review protocol information for the study.
Boston Hearing Professionals Working Together
The Massachusetts Eye and Ear team decided to launch the study at eight Boston hospitals to examine whether eardrum perforations will heal independently or require surgery, whether characteristics of eardrum perforation are different when caused by a blast or another cause, the use of steroids to treat sensorineural hearing loss patients immediately after a blast and the correlation between distance from the blast and severity of hearing loss and eardrum perforation.
"This has truly been a collaborative effort among the community of Boston otologists and otalyngologists," Quesnel said. "Because of their willingness to come together, we are able to work towards the same goals, which will allow us to further our knowledge of this important research and help patients receive the best care possible.
"It's a privilege—and humbling at the same time—to be able to take care of patients who have been through something like this and conduct this research. It's so different from what the majority of our patients are coming in for. They're certainly a very special patient population for us."
If you or someone you know would like to learn more about how hearing loss develops, please contactone of our representatives. They can help schedule a consultation with a licensed hearing specialist in an area near you.
Call 877-631-9511 for FREE Consultation