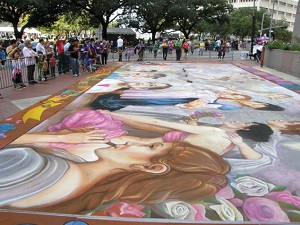 Hearing loss is a devastating condition that affects millions of people nationwide. While a number of organizations exist to benefit those with hearing impairment, the city of Houston is doing something unique to help individuals with hearing loss. This past November, tens of thousands gathered in the downtown area for Via Colori, an annual street painting festival created to raise money for young people suffering from hearing impairment.
The Art of Sound
A unique event, Via Colori unites dozens of corporate sponsors with hundreds of talented artists from different parts of the world. Sponsors pay for spaces on Bagby, Lamar, and other downtown streets, which artists then decorate using chalk art. This year, the theme was "The Art of Sound," and the exhibit featured murals with characters as diverse as Bob Dylan and Mickey Mouse. More than 30,000 people attended the festivities.
Currently in its ninth year, Via Colori has raised an impressive $1.5 million dollars for children with hearing loss to date. Additionally, the event has done a great deal to boost worldwide awareness for hearing loss. Because early intervention is crucial for young people with hearing loss, one of the goals of Via Colori is to provide children with the tools and assistance they need to enter into mainstream kindergarten and first grade classes.
The Center for Hearing and Speech
The organizer of Via Colori, the Center for Hearing and Speech, is a Houston-based group dedicated to helping improve the lives of children with varying degrees of hearing loss. From funding cochlear implants and other treatments to providing speech therapy and education, the Center provides a wide range of services designed to teach kids with hearing loss to listen, talk, and read.
Additionally, the Center for Hearing and Speech offers an Audiology Clinic that provides comprehensive hearing tests to children from birth to age 18. If hearing loss is found, the Clinic will then work with the child's family to develop an affordable, individualized plan of treatment. The experts at the Center can also connect families of hearing impaired people with speech pathologists, physicians and other educators specializing in hearing loss.
Early Testing is Crucial for Children With Hearing Loss
When it comes to hearing loss in children, early intervention is key. Seeking regular testing and treatment is the best way to guarantee a bright future for a child suffering from hearing impairment.
If you or someone you know would like more information about hearing loss and how to treat it, please feel free to schedule a consultation or contact one of our representatives today!
Call 877-631-9511 for FREE Consultation