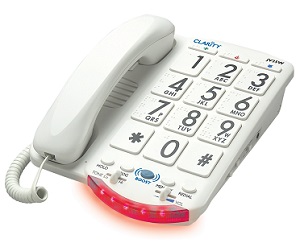 Experts estimate that more than 35 million Americans suffer from some degree of hearing loss. In more extreme cases, many of those afflicted with the disability use cochlear implants or hearing aids to regain some of their auditory senses. For others, hearing loss may not be severe enough to justify this kind of medical expense, but they still have difficulty hearing in certain situations, such as talking on the telephone.
Increasingly, people with this type of low-level hearing loss are using amplified telephones to stay connected with friends and family.
How Amplified Telephones Work
As the name implies, amplified telephones are capable of emitting louder sounds so that people with hearing loss can comfortably participate in phone conversations. However, the technology does much more than just increase the volume coming through the headset. Since many hearing loss sufferers can't hear certain tonal frequencies, most amplified phones also come with a tone control. This feature lets users adjust the frequency of sounds that the phone emits, allowing them to customize the amplified phone to their specific type of hearing loss.
Amplified telephones aren't just for the hearing impaired either. The technology is so specialized and customizable that it can also help users who are blind or even users who are incapable of speech, such as people who have undergone a laryndectomy.
As with most medical devices, the cost of customizing and installing an amplified telephone can be significant. But for a small community in Florida, a new partnership is allowing residents to get this technology free of charge.
New Partnership Offers Free Phones
According to Deaf and Hearing Services of Lake and Sumter Counties, more than 60,000 local residents suffer from some degree of hearing impairment. In order to help ease the burden of these residents' hearing loss, Deaf and Hearing Services recently partnered with Florida Telecommunications Relay Inc., a statewide non-profit that distributes specialized equipment to the hard of hearing.
This new partnership allows residents in the area who have a medically documented hearing loss to get free amplified telephones. Not only are the phones themselves free, but residents can also visit participating audiologists in the area to customize the amplification level and tonal frequency settings of their devices.
Providing free access to this kind of technology is a tremendous benefit to those in need. But the greater benefit, according to Deaf and Hearing Services, is that it familiarizes the hard of hearing with technologies and programs that they may not have been aware of, and which can greatly enhance their quality of life.
If you or someone you know would like more information about hearing loss and how to treat it, please feel free to schedule a consultation or contact one of our representatives today!
Call 877-631-9511 for FREE Consultation