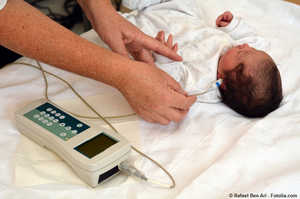 Recently, Ministry of Health officials in Dubai announced that the country is planning to enact a law to make hearing tests for newborns mandatory across the UAE. This news comes on the heels of a startling survey, conducted by MED-EL Middle East, which found that the rate of hearing loss across the United Arab Emirates increased ranges from two to five percent higher than the rate of hearing loss across the globe. So why were the rates of hearing loss so much higher in the UAE and why is it so important to lower those numbers?
The Study
Not surprisingly, the MED-EL-conducted survey revealed some clues as to why the hearing loss rates for people in the country are so inflated. Of the more than 520 respondents, only 56% said that they believed hearing impairment posed a serious health problem. Even more unsettling, more than 60% of respondents claimed that their children did not receive a hearing screening after they were born, and roughly the same number had almost no familiarity with how hearing screenings were performed.
These numbers indicate a lack of awareness of hearing-related issues across the population. Unfortunately, this lack of awareness contributed to less than 20% of the people surveyed saying that they would definitely have their newborn's hearing tested, and only around 60% said they would consider having the screening done. Overall, this survey indicated that, for most people, hearing problems are not a major health priority, and only 30% said that they considered newborn hearing screenings to be an essential practice.
Early Intervention is Key
According to health officials in the UAE and around the world, early intervention is paramount when it comes to dealing with hearing loss. When children have mild to severe hearing loss, they need to be outfitted with hearing aids prior to the onset of speech so that their ability to communicate isn't hampered. If hearing-impaired children start to learn to speak before they can hear properly, then the vast majority of them require speech therapy, and their learning and socialization skills are often noticeably diminished. Not only will these issues affect their childhood development, but they also could have repercussions well into adulthood.
Even though hearing screenings are already the norm at state-run hospitals, this new law will help to ensure that no child born in the United Arab Emirates has a hearing problem that goes undiagnosed. Once these tests become more commonplace and people are educated about the severity of hearing issues, then the rate of untreated hearing impairment should decrease across the country.
If you or someone you know would like more information about hearing loss and how to treat it, please feel free to schedule a consultation or contact one of our representatives today!
Call 877-631-9511 for FREE Consultation