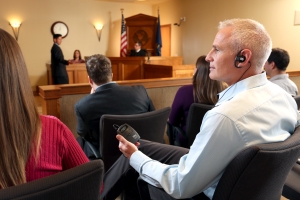 Experts estimate that roughly 30% of Americans over the age of 65 suffer from some degree of hearing loss. While many of those afflicted with hearing loss get hearing aids in order to better interact the world around them, hearing aids are far from a perfect solution.
Even with hearing aids, it can still be difficult sometimes to clearly make out sounds. Additionally, there are times when wearing hearing aids isn't practical, such as when you're sleeping. For these situations, experts recommend that people use other kinds of assistive hearing technologies.
Additional Assistive Devices
Hearing aids may be the most well known type of assistive hearing technology on the market, but there are a number of products out there to help people who are hard of hearing.
Most people don't wear their hearing aids to bed. So a number of companies offer alarm clocks that light up and vibrate in addition sounding an alarm. If you're a sensitive sleeper, these kinds of clocks can be placed beside your bed and the flashing light can serve as your alarm. On the other hand, if you need a more forceful push in the mornings, then the clock can be placed under your pillow, and the vibration will wake you up.
Another type of assistive technology involves the centerpiece of everyone's living room: the television. Nowadays, it's possible to wire the sound from your television so that it broadcasts directly into your hearing aids. This kind of technology allows you to make the volume louder for you while everyone else can continue watching TV at a more reasonable level.
Finally, one of the most popular types of assistance technology is the amplified telephone. These kinds of phones not only increase the overall volume of sound coming out of the receiver, but they also clarify the sound, making voices easier to understand.
Getting Assistive Devices For Free
With hearing loss awareness on the rise and the cost of technology decreasing, it's becoming more and more common for companies and charities to give away assistive devices for free.
For example, Illinois Telecommunications Access Corporation is currently giving away amplified telephones to qualifying residents in northern Illinois. And this deal isn't only available to senior citizens. Anyone with a medically documented case of hearing loss may qualify.
Giveaways like this are going on all the time across the country. If you suffer from hearing loss and are interested in learning about programs that could help, then check with national hearing loss groups as well as your local non-profits.
If you or someone you know would like to learn more about hearing loss and how to treat it, please feel free to schedule a consultation or contact one of our representatives today!
Call 877-631-9511 for FREE Consultation