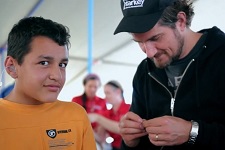 A talented singer-songwriter, Matt Nathanson is best known for folksy rock hits such as "Come On Get Higher" and "Modern Love." However, today the consummate guitarist is striking a new chord with victims of hearing loss around the world. As a volunteer with the Starkey Hearing Foundation, Nathanson recently traveled to Huancayo, Peru, where he participated in efforts to deliver hearing aids to those in need.
Starkey Hearing Foundation
A global leader in hearing services, the Starkey Hearing Foundation aims to deliver both hearing aids and education to individuals worldwide. Their goal is not just to restore hearing, but also to empower people with hearing damage to lead better lives. Recently, Nathanson accompanied the Starkey Hearing Foundation on a visit to Peru. Along with helping volunteers hand out more than 1,000 hearing aids to those in need, Nathanson used the 48-hour trip as inspiration for his most recent single, "Headphones."
A rousing song, "Headphones" is Nathanson's ode to the power of song. According to Nathanson, the Peru trip made him realize just how lost he would be without the ability to hear and appreciate music and the song's music video shows footage of his interactions with local hearing loss victims. Along with his volunteer work, the artist has pledged to donate 100 percent of the video proceeds to benefit the Starkey Hearing Foundation. Watch the "Headphones" video now on Nathanson's website.
Get Involved
Nathanson is also encouraging fans to join the cause. In addition to purchasing the song, people can donate to the Starkey Hearing Foundation directly to give the gift of hearing worldwide. Presently, volunteers at Starkey fit more than 100,000 hearing aids each year and strive to help a million people before the end of the decade. Additionally, Starkey is dedicated to educating young people about hearing loss, reminding them that even occasional exposure to loud sounds and music can cause permanent hearing damage.
Along with young people, hearing loss affects members of the military in record numbers. In fact, recent reports indicate hearing loss has been the most prevalent military injury among veterans since the 9/11 attacks. The Starkey Foundation is also committed to helping our nation's vets by promoting awareness and encouraging service men and women to tell their stories.
With hearing loss affecting 360 million people worldwide, there is still a great deal of work to be done. However, with the help of Nathanson and others, Starkey may just achieve its goal of helping the world to hear.
If you or someone you know would like to learn more about hearing loss and how to treat it, please feel free to schedule a consultation or contact one of our representatives today!
Call 877-631-9511 for FREE Consultation