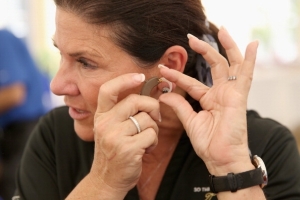 According to current estimates, roughly 50 million adults in the United States experience some degree of hearing loss. Because the underlying causes for hearing loss are so varied and unpredictable, scientists have recently been looking for cultural or genetic risk factors that would increase the chances of someone losing their hearing. Just last month, a team of researchers published the results of a study examining whether Hispanic and Latino adults have an increased susceptibility to hearing loss.
The Study
For the study, researchers gathered volunteers from a wide array of cultural backgrounds, including people who identified as Cuban, Puerto Rican, South American and Mexican. In order to test the subjects' hearing ability, the research team had them listen to electronic tones at various decibel levels. Following these tests, subjects were placed in various categories, based on whether they had hearing loss in one ear, both ears or neither.
In order to get a better understanding of how different risk factors could have contributed to hearing loss, each of the participants was questioned about his overall health, income level, education and general exposure to excessive noise. Additionally, the subjects were screened for diabetes and their glucose levels were tested.
The Results
Ultimately, researchers determined that about 15% of the participants had hearing loss in one ear, with roughly half of that number suffering from hearing loss in both ears. Both of these numbers are in line with the overall averages for the United States.
Examining individuals from different backgrounds, however, did yield some interesting results. Participants of Mexican heritage had the lowest level of hearing loss, about 6% in both ears, while people with a Puerto Rican background had the highest incidence of hearing loss at about 12%.
In general, though, the participants' rates of hearing loss, relative to their risk factors, were consistent with overall national averages. According to the study, men are about 65% more likely to suffer from hearing loss. Additionally, participants who admitted to routinely being exposed to excessive noise were about 30% more likely to have impaired hearing. And as usual, the greatest factor proved to be age, with people over the age of 65 being almost 20 times more likely to suffer from hearing loss than younger people.
Studies like this one are important in determining how various risk factors affect hearing loss. Once these risk factors are better understood, scientists will have new tools and treatment options to battle hearing loss.
If you or someone you know would like to learn more about hearing loss and how to treat it, please feel free to schedule a consultation or contact one of our representatives today!
Call 877-631-9511 for FREE Consultation