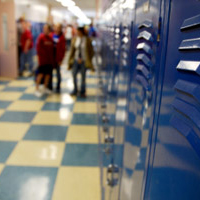 From ringing bells to slamming lockers, schools offer plenty of loud noises for students and teachers alike.
Teachers are generally at a higher risk for hearing loss due to this cumulative noise exposure, but many fail to seek the health care they need.
EPIC Hearing Healthcare recently conducted a national survey and discovered that 15 percent of teachers experience diagnosed hearing loss, compared to 12 percent of working adults overall. About 26 percent of younger teachers, in the 18 to 44 age range, report diagnosed hearing problems, compared to 17 percent of younger employees overall.
Most concerning, the study found that 27 percent of teachers suspect they have hearing damage but have failed to seek treatment.
"Unfortunately, our research shows that teachers are feeling the burden of their untreated hearing loss and report that it affects them on the job in multiple ways," Brad Volkmer, president and CEO of EPIC Hearing Healthcare explained to News Medical.
School Stimulus
Of the surveyed teachers with suspected but untreated hearing loss, more than half claim they often ask people to repeat things, one third comment they misunderstand what is being said and one fourth say they often feel stressed or tired after talking or listening for extended periods of time.
Another study, conducted by the Danish Center of Educational Environment, discovered that noisy indoor environments can negatively affect teachers' work days, contributing to lower job satisfaction, increased fatigue and lack of motivation among teachers.
"There are many reasons teachers may not be seeking treatment – ranging from putting it off because they view it as a sign of aging to financial concerns over the surprisingly high cost of hearing aids," Volkmer commented. "Our research also shows that teachers are more sensitive to potential work-place stigma – with more than half of teachers saying they would be concerned if their employer suspected or knew they had hearing loss."
Looking At Hearing Loss the Right Way
The New York State United Teachers organization educates current and retired teachers and education professionals on hearing loss prevention, treatment and supplemental hearing insurance through its Member Benefits Department.
"By providing NYSUT members with information about voluntary hearing benefits, we are encouraging them to take advantage of the robust network of hearing professionals and substantial savings on hearing aids that this supplemental coverage provides," Lynette Metz, director of NYSUT Member Benefits, told News Medical. "We hope this inspires more NYSUT members to check their hearing on a regular basis and seek treatment sooner, so they don't suffer the added stress that untreated hearing loss could bring to their lives."
EPIC Hearing Healthcare's survey found that 60 percent of teachers are concerned about hearing loss but only 19 percent receive hearing insurance.
"We're finding increasing interest from retired teachers associations in hearing insurance, especially as they are better educated on their members' higher risk, both from age and their profession," Ernest Stobel, president of insurance brokerage firm E.J.S. Insurance Services, Inc., said to News Medical. "Because of this, we're positioning hearing insurance as an equal player with dental and vision as important voluntary benefits to promote overall wellness."
If you or someone you know would like to learn more about hearing loss and how to treat it, please feel free to schedule a consultation or contact one of our representatives today!
Call 877-631-9511 for FREE Consultation