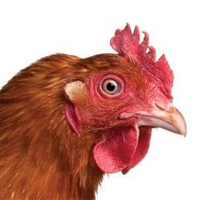 Chickens can restore their own damaged hearing, an amazing trait that is inspiring the nonprofit The Hearing Health Foundation to search for a hearing loss cure in humans.
The foundation's "Chirp the News" video features the nonprofit's new mascot, a baby chick with the potential to restore hearing and cure tinnitus or ringing in the ears.
About 36 million adults in the United States have some form of hearing loss and 25 million are affected by tinnitus, according to the National Institute on Deafness and Other Communication Disorders.
"As someone who lives with hearing loss every day, I am personally thrilled with the prospects for a cure," Shari Eberts, chairman of the Hearing Health Foundation's Board of Directors, commented in an email to Healthline. "Life with hearing loss can be frustrating. Sometimes you miss the joke when everyone else is laughing and sometimes you miss important information because you don't hear it. Supportive family and friends can make living with hearing loss easier, but a genuine cure would be life changing."
The chicken's amazing trait
The chicken is able to support cells in its inner ear to replace hair cells damaged by loud noises or other causes.
It turns out that chickens aren't the only animals with the ability to restore their own damaged hearing. Aside from mammals, any vertebrate can do the same. Preliminary research shows that mice can regain hearing using supporting cells that turn into hair cells.
With the support of the Hearing Health Foundation, researchers hope to find a way to transform the cells in people's inner ears into functional hair cells with a goal of finding a hearing loss cure within a decade.
The road to a cure
For hearing loss sufferers, waiting a decade for a cure might seem like a lifetime. However, for those in the research world, 10 years is actually quite a short time to jump from new scientific discoveries to successful clinical trials in humans.
To speed up the research process, the Hearing Health Foundation is funding a collaboration of researchers from more than ten institutions, including Harvard Medical School, in an effort called the Hearing Restoration Project.
Both Ebert and Ed Rubel, a professor of hearing science at the University of Washington and member of the project team, are optimistic that the project will hit its mark.
"With sufficient funding, the consortium can discover effective pathways and hopefully some lead compounds to promote hair cell regeneration in the mammalian inner ear in the 10-year time frame," Eberts told Healthline.
Rubel's efforts
Rubel is currently working on a piece of the puzzle that could eventually lead to hair cell regeneration in humans.
"The project on my own has to do with developing a new mouse model to test the pathways and eventually the drugs that come out of the HRP," Rubel told Healthline.
The mice developed in Rubel's laboratory at the University of Washington will be shared with members of the collaboration, so that they can avoid developing their own mice and hopefully save time and money.
Rubel comments that the Hearing Restoration Project has a myriad of other benefits.
"The wonderful thing about the consortium is that it includes only people who really want to play in that kind of sandbox—that want to share information, share early-stage information, share the other things that they're doing in their laboratories and work together," Rubel told Healthline.
As a hearing loss sufferer herself, Eberts wants to highlight the project's potential in its goal to cure hearing loss.
"Even though we are in the early stages of the research, we think it is very important that the public learn about our efforts," Eberts told Healthline. "We want them to know that there is hope for a cure and that there are researchers who consider curing hearing loss and tinnitus to be their life's most important work."
Want to learn more about hearing loss and how to treat it? Please feel free to schedule a consultation or contact one of our representatives today!
Call 877-631-9511 for FREE Consultation